[quote align="center"]
Hi Danny,
The guys just dropped off the piano at my apartment. I wanted to let you know what a great job they did, how professional and friendly they were, and how happy I am with the job. Next move is gonna be with you guys for sure.
Thanks so much,
Martin Blessinger, D.M.
Professor of Music Theory and Composition
Texas Christian University School of Music
[/quote]
[quote align="center"]
Danny,
I want to thank you, and please thank all your colleagues on my behalf, for all you have done to restore and take care of my piano over the past year. I didn't fail to notice that, even though you didn't have to work on the dings and splinters on the lower legs that had accumulated over the years, you did repair them. The piano sounds beautiful and looks beautiful. Paul Hill did a wonderful tuning job yesterday, as he also did, from what I heard him play, on Charlotte's Steinway.
I know you expected to refund me $75, after paying him for that tuning. If that has changed and I owe you anything, please let me know. But if not, I must tell you that I don't feel that you owe me any refund. Getting to know you and your team, and to experience your craftsmanship and professionalism, has been one of the best things that came from the tree fall, collapsing ceiling, and my sudden move.
I would be very pleased if you would give that $75 to one or more of the people who worked on the piano, or donate it to charity, or do whatever you think best.
Thank you again, and all the best for the future,
Edwina
[/quote]
[quote align="center"]
(Purchaser lived out of town and the piano was purchased over the phone)
I just wanted to give a five star review for Mcbrayer's Piano Company. The reason for this good rating is they do what they say they are going to do, which is greatly unusual these days. The piano I chose was as promised. It was beautiful. The delivery time and date stayed on schedule. It even arrived a little early. The delivery guys were careful and very polite. Tuning was great as promised. This is a good, moral company. The kind you used to know in the old days. and a genuine review. I would use them again.
Exceptional service.
Sharon Clark
[/quote]
[quote align="center"]
Superb customer experience from beginning to end. If you are in the market for a piano, McBrayer's should be your first stop. I visited twice on scheduled appointments while shopping around the Arlington area. Both times, Danny was punctual, friendly, and attentive. You will not be pressured to spend more money than you are planning to; I gave Danny my budget, and he stuck to it while we explored the showroom. I spent quite a lot of time in the store, playing the same songs over and over to get a thorough impression of the instruments, and did not once feel pressured to hurry through the buying process.
Philip Johnson
[/quote]
[quote align="center"]
Just had to text you and thank you for the incredible job you did restoring my piano. Not only does it look beautiful, but it sounds beautiful too! I love playing my piano again. And, to think I was just going to get rid of it. I always loved my piano and now I treasure it as a beautiful family heirloom. Many, many thanks.
You are the best!
Nancy J.
[/quote]
[quote align="center"]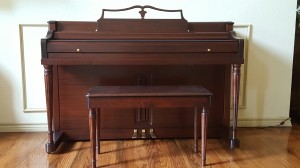 I needed a piano moved and then tuned once it got to its new location. I didn't know who to call, so I looked on Angie's List. I called a regular moving company, who would only be able to move it, and I called McBrayers. Surprisingly the bid from McBrayers was only $15 more to move and tune, so I went with them. They scheduled me right away and even with a rain delay they had me moved in just two days. The movers were punctual, courteous and professional. They loaded up my now married daughters childhood piano and moved it into her new home across town in little over an hour. The piano tuner then called that same afternoon and scheduled a tuning appointment for the following day. He was on time and very professional as well. We were VERY satisfied with the fantastic service and my daughter is thrilled to now be playing her piano in her own home.
Thanks again! Kim W
[/quote]
[quote align="center"]
Danny/Monte (and the crew at McBrayers),
I wanted to take a moment to thank you for the wonderful restoration work which was recently completed on my 1929 Mason & Hamlin Model T.
I bought this piano earlier in the year sight-unseen, with the expectation that it might need a thing or two, but ultimately would be an instrument well worth the investment. After receiving it, I was happy with it, but knew it needed a trained eye to give it a thorough once-over.
Research on the internet turned up reams and reams of positive reviews for McBrayer's Award Piano, and a visit to your web site sold me on your services.
Monte came to my home the same day I called, and immediately, you can see the passion he has for his craft. Admittedly, it made me feel great to hear of his mutual admiration for Mason & Hamlin pianos, and he quickly set about doing a thorough once-over. I learned so much that day, and by the end of the visit, I was more comfortable than ever that I had picked the right folks to do business with.
Several weeks later, my beloved piano returned, and there really are no words suitable to describe the astonishment and happiness I felt when seeing the wonderful work performed by your team. New strings, new hammers, repaired soundboard, painted harp, polished metalwork, polished keys — the piano simply looks and plays like new. The McBrayers team have completely exceeded my expectations!
I absolutely would recommend McBrayers Award Piano to anyone seeking high quality workmanship performed by a team with generations of history in piano craftsmanship. Thank you so much!
Sincerely,
– Chris Opat
[/quote]
[quote align="center"]
Monte,
Thanks for moving our Knabe piano from Benbrook to our house yesterday. Everything went very smoothly and it arrived in great shape.
I would like to get some additional information about the piano servicing we discussed yesterday. I know you did not have time for a thorough inspection, but based on the age of the piano (55-60 years) and what you could see and hear, can you tell me what kind of service (regulation, voicing, tuning, etc.) you would perform on our piano? Would we need to replace the strings, hammers, felts, and other parts? How much would those replacement parts cost, and how much would voicing, regulating, tuning, etc. cost, if needed? I would like to get the piano in good working condition, but I don't want to go overboard and waste money on unnecessary restoration, either.
Thanks,
Brett Denner
[/quote]
[quote align="center"]
Dear Mr. McBrayer,
I'd like to take this opportunity to thank you for your outstanding customer service!
As you probably will remember, I had lived outside the States for 36 years. Upon entering retirement I returned to the U.S. and settled up in the Northwest area. A top priority was to replace my piano that was burned in a warehouse fire. After checking with local piano companies here in the Northwest and not finding what I was looking for, I began looking on eBay even though I had not a speck of experience with this method of shopping. Buying that perfect piano through a normal store seemed difficult enough, then when I began thinking of purchasing a piano on eBay I wondered how would I know whom to trust? Finally I came across a piano that was being sold by an actual store owner in Ft. Worth, Texas.
After reading about the family's history on their website, a span of over 100 years and 5 generations in selling and restoring pianos, I felt McBrayer's Piano Gallery was a piano company I could trust and after consulting even briefly with Danny McBrayer I was definitely convinced he personally was someone I could trust.
During a 3-week period Danny personally answered my numerous emails of dozen's of questions concerning buying through the internet. Danny always answered promptly and spent a great deal of time helping me. I appreciated his friendly, yet very professional manner. There were no high pressure tactics and Danny provided me with additional pictures of numerous pianos in the store.
When it seemed there was a possibility that I could visit the store, Danny was also ready to assist me in transportation from the airport to the piano store.
Wow! That's what I call customer service!!!!
Thank you Danny for helping me in my journey of acquiring a piano.
Sincerely,
Mrs. G.
Sequim, Washington
[/quote]
[quote align="center"]
Monte,
On Friday, 9/15/06 you delivered the fully restored Ivers & Pond baby grand piano to my home.. belonging to my mother who had it as a child growing up in Wichita Falls, Texas. I believed the piano was purchased in the early to mid 1920s by my mother's parents…The piano served my mother well as she also minored in music at Texas Christian University.
Growing up, I have fond memories of the piano being in our home…Both my sister and I took piano lessons, but I did not keep up with it even though I really enjoyed it…It has always been a dream of mine to learn how to play the piano.
When the opportunity availed itself to have the piano moved into my home, the only way my wife would permit this was if the piano was restored. After many years of sitting in a home with smokers (parents smoked) and not receiving the proper care it should have had, the cabinetry was in dire need of refurbishing. The exterior cabinet was black with crackled varnish while the interior cabinet, in places, still had the original brown/cherry varnish with a smooth finish. It was remarkable the difference in the appearance afterwards…. My former music minister, Richard Thomas, had recommended McBrayer's Piano citing his own use of their services on his piano and the reputation they had of a long, distinguished career spanning back several generations in working with pianos…
Initially, we were only going to have the cabinet refurbished since no one in my family played the piano. Once Monte and I agreed with what was to be done, he commenced work. Before long, I had changed my mind about not wanting to restore the sound portion of the piano and called Monte up instructing him to go ahead and do a complete restoration including sound, since he would have the piano disassembled… I told Monte…that I did want this done right. A considerable sum of money was being spent on this project and this was a sentimental piece of history for me.
….when Monte called to say that he was ready to deliver the piano we made arrangements…Both my wife and I were there to see it and we were really impressed with how well it turned out.
After placing it in the Living Room, I got underneath it like I did when I was kid and Monte played a little for me. It bought back a lot of good memories.
Both my wife and I were very pleased with how things turned out. I can't say that the amount of money we spent was practical from a dollars and cents stand point, but from a sentimental value position, it was money well spent It's like having part of my mom with me and something from my childhood as a reminder. This will be something that my kids can pass on to their kids.
Now that the piano is restored, its even my intention to take lessons once again to learn how to play.
Monte, I do thank you for a wonderful job that you and your workers did. It's hard to believe that this is even the same piano! I would gladly recommend you to others… or for a prospective client to see our piano…
Feel free to use me as a reference…
Thanks!
Sam
[/quote]
[quote align="center"]
Danny:
I hope this finds you well and enjoying a prosperous Holiday season. I wanted to let you know that the Steinway Grand we purchased from you all at McBrayers in October was delivered to Whites Music in Visalia [California] and in turn, was delivered to my home this evening. The instrument is beautiful and the tone is rich and resonant. We are most pleased.
Thank you for making this purchase possible and thank you for your willingness to work with us on the restoration process. It was indeed a pleasure speaking with you several times during the process.
I will continue the prayers for you and your family.
Wishing you a Most blessed Christmas and a Happy New Year.
Paul Raheb
[/quote]
[quote align="center"]
Hello Danny,
….in 1993, I decided to finally purchase a grand piano. I have been playing piano since the age of 7, and at that time I was still playing the piano I started on. As I checked into the quality and costs of grand pianos, it became clear that the quality and sound I was looking for could not come from a new piano that was within my budget. The pianos I could afford were mass produced, had poor tone, and were made from materials that would surely wear out or break. My only solution was to find a quality used piano. So I began my search!
Then one day a fellow musician friend of mine said, "have you tried McBrayer Piano in Fort Worth?" So I called….that weekend I went to McBrayer's. It was true, there must have been at least 15 to 20 used grand pianos ready for sale, and maybe another 10 or 15 that were about to be restored. It was truly unbelievable, and just the place I was looking for! That day I worked with Monte McBrayer. I moved from piano to piano, playing each one, looking for the sound and feel I was looking for. After listening to my comments, Monte said, "Try this one. It's a little more money that you have been considering, but I believe you will really like it." And I did. The piano was a beautiful 1923, 100 Year Anniversary Model, Chickering grand. It had been completely refinished in a hand-rubbed satin black. It had new strings, new felts, and new keys. It was a 70 year old instrument, but it looked like new! I fell in love, and 13 years later I still enjoy my Chickering many times each week.
My piano came with a life-time warrantee, and coming from one of the oldest piano companies in the Southwest, I knew McBrayer would be there, should repairs be needed. My piano has always been tuned by David McBrayer and any work that was needed was taken care of at no charge. (By the way, there was almost no work required.) The initial restoration of my Chickering was first rate and as a result my piano has held up very well to my rather heavy hands. My playing is just a little aggressive.
So my advice to anyone seriously considering purchasing a quality grand piano, that they can play and enjoy for years to come, go see the McBrayers! You will find a high quality instrument for far less than you think. And you'll be working with some of the most knowledgeable and honest people in the business.
Danny, thanks for everything….
Sincerely,
Wayne Gaugler
[/quote]
[quote align="center"]
The McBrayers restored a vintage Knabe piano for our home. It proudly sits in our living room and it is the first thing our guests notice when they walk into the house. The craftsmanship is impeccable but even more important is the quality of the music that the piano provides. I would not have a piano restored by anyone else in the Metroplex.
Richard S. Levy, M.D.
Texas Sports Medicine
[/quote]
[quote align="center"]
Dear Danny, Monte and Crew;
Wow, what a beautiful piano! We are so excited and pleased with the work you guys have done. We know that we will enjoy it for many, many years to come.
This piano has a lot of sentimental value to us since it was at our church for so many years. Our wedding March was performed on this piano as well as the songs played and sung at Tommy's mother's funeral and so many other things we remember.
Thank you all so much for the extra that you put in to make this so nice for us. You all did such a wonderful job.
The Pianomation player system is such an added attraction. We're so glad we had you install it along with the restoration.
Sincerely,
Tommy & Terrie
[/quote]
[quote align="center"]
Hello!
Thirty years ago we bought a beautiful Rosewood Kawai Baby Grand Piano from your company! We have moved that thing around the country – taught 3 children to play on it (when we could get them to practice!!) — and loved it all the while!
Pam Vandergriff
[/quote]
[quote align="center"]
For many years, McBrayer's Piano has provided top-notch service for my foundation and other organizations in which I am involved. From providing an organ at the Texas Rangers and Fort Worth Cats ballparks to piano moving and tuning, the McBrayer brothers, Danny, Monte and Patrick have always come through, all the while demonstrating incredible care and professionalism.
I cannot endorse McBrayer's Piano enough – they are simply the best at their trade.
Bobby Bragan
2005 Inductee: Texas Sports Hall of Fame
[/quote]